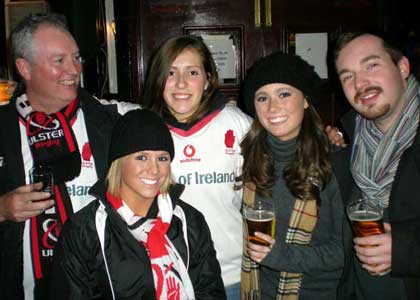 Despite the result Ulster supporters still enjoy a good time in Edinburgh!
Ulster's somewhat erratic season continued on Friday night with a defeat against Edinburgh in a cold and damp Murrayfield.
After last weeks marvellous win against Munster the Ulster supporters travelled to Scotland's Capital with a degree of confidence but soon came down to earth as Edinburgh quickly raced to a 10 – 0 lead after as many minutes. The Ulster pack looked off the pace and, particularly disappointing after last weeks great display, the back three struggled to counter the Edinburgh game plan.
Edinburgh had clearly done their homework and chose not to run at the strong Ulster defence but chose to play the game behind them and any team watching this match will know that this is the way to keep Ulster jittery.
Thankfully the proposed return of Danielli will greatly improve Ulsters ability to counter this tactic with his confident fielding and his ability to run the ball out of defence and keep Ulster on the front foot.
Ulster should face a different challenge on Saturday with the darlings of English rugby eager to get a result at Ravenhill. If they chose to run at Ulster our tremondously improved defence should be able to keep them on teh back foot and there is enough talent in the backs to counter attack through the centre.
Hopefully the team can put the first half against Edinburgh behind them and give Harlequins a rousing welcome to the rebuilding Fortress Ravers.
PRINTS
We now offer print, gift and download options for our images.
The ideal gift for all the family :)