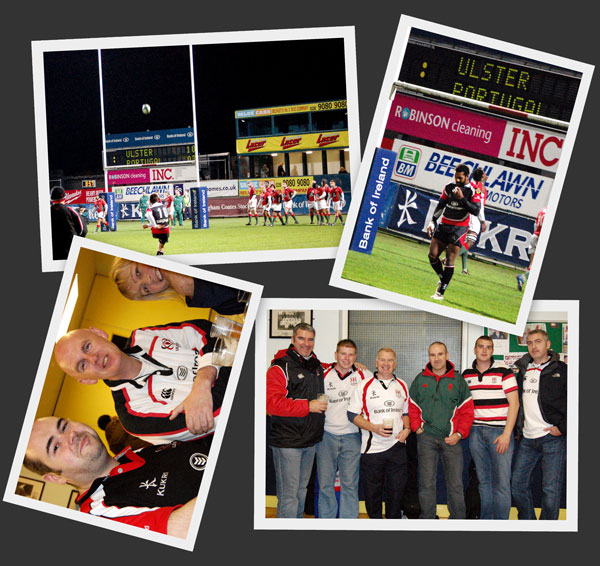 Ulster romped to a convincing ten try victory against an outclassed but spirited Portugal side. Centre Cave led the way with four tries, Nagusa and McCrea added two a piece and Hanna and Whitten chipped in with one each.
In an open running game Ulster easily outclassed their opponents in attack and defence with Pollock, Cave and Paulo all showing well. Paulo was particularly effective at the re-start (well he did get plenty of opportunities) and his athletic takes of the ball were a feature off the game. Pollock had another strong game in attack and his exceptional support play kept many an Ulster move ticking over. Cave is looking better and better. He is so far removed from the player who ha a disaster against Dragons away last year that it is hard to believe he is the same player. His strong running and excellent defensive display completely destroyed the Portuguese side.
Up front Ulster had a bit more work to do but again they coped admirably. Young appeared to get through his work out OK but the evergreen Justin Fitzpatrick did appear to add a harder edge when he came on at half time and showed his delight in playing in the same front row as his son Declan!
As with Ireland against Canada last weekend it is difficult to draw too many conclusions from this game. There where however a couple of worrying performances.
The enigma that is Ian Humphreys had one of his poorer games and despite having plenty of ball in an open game he failed to shine, which was a surprise. His place kicking was erratic to say the least and O'Connor, when he replaced him, gave a master-class in place kicking and composure on the ball. It looks like the Humphreys/O'Connor debate is going to run all season but if the competition for the half back spot forces both of them to raise their game it won't necessarily be a bad thing. On this performance I expect O'Connor to start against the Westies with Humph coming on in the last twenty if Ulster are chasing a bonus point.
Although he scored two tries McCrea had one of his less impressive performances and failed to nail down his position on the wing. Too often he chose the wrong option with ball in hand and looks a far cry from the confident youngster who burst onto the scene last year. Hopefully the Ulster management will be able to work the same magic on this strong and pacy player as they have on Cave and Nagusa.
All in all a good workout for the squad and it should be a good boost in their build up to the Connacht game.
PRINTS
We now offer print, gift and download options for our images.
The ideal gift for all the family :)