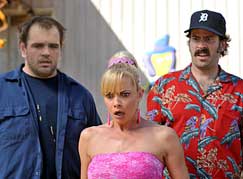 Each week we'll give you an interesting fact about an Ulster player or supporter and all you have to do is tell us if it is true or not.
This weeks factoid is about Ulster's most consistent player, Matt McCullough, who took time out during the Six Nations to fly to the US and audition for the part of Randy in hit US TV series My Name is Earl!
True or false? You decide!

[poll id="41″]
Previous Factoids.
Factoid 1. TRUE Flat Top does get his hair cut every week!
Factoid 2. FALSE Bryn has had no offers to model knitwear!
Factoid 3. TRUE Andrew did find his Mini in the weights room!
Factoid 4. TRUE Filo Paulo did cut Darrens hair!
Factoid 5. FALSE Cap'n Grumpy is in fact an unemployed Hugo Duncan look-a-like!
Factoid 6. FALSE Cables has never got anything wrong!
Factoid 7. TRUE Eleven year old Darren Cave is in fact the second boy from the left!
Factoid 8. TRUE Holywood Mike is Ulster Rugby's tightest supporter.
Factoid 9. TRUE Timoci Nagusa was awarded the Pacific Rugby Cup Best Player Award in December 2008. He also got try of the tournament.
Factoid 10. TRUE Robbie Diack is in fact the most searched for Ulster player on the internet. The top six are Robbie Diack, Timoci Nagusa,  Stephen Ferris, Filo Paulo, Darren Cave and Niall O'Connor in that order.
Factoid 11. FALSE Texel King does not drive a Range Rover the sheep was in the back seat of his Ka!
Facoid 12. FALSE surprisingly the Twins are in fact twins.
Factoid 13. TRUE Thomas does have more "friends" than Niall.