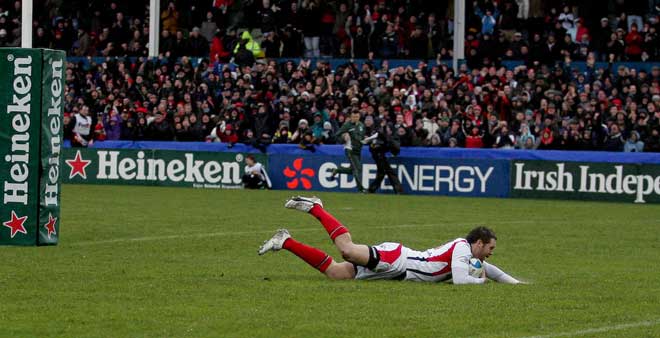 Darren Cave opens the scoring against Harlequins.
Photo from Rugby Picture.
Ulster 21 Harlequins 10.
Ulster ground out a fine win against Harlequins in a wild, wet and windy Ravenhill on Saturday afternoon.
Ulster set about this match in a more composed and controlled manner than the Sky media darlings from London. With a strong wind behind them Ulster applied pressure from the kick off and after great work by Henry and Wallace, on form Darren Cave slipped through a gaping hole in the Harlequins midfield to stroll under the posts for a vital try.
Ulster continued to apply pressure in a first half which appeared to pass too quickly and added two penalties from Humphreys thanks largely to highly stupid play from Easter. As the rain poured down and the wind strength increased the 13  – 0 lead looked somewhat precarious but a tremendous penalty from the halfway line by Humphreys on the stroke of half time gave the Ulster players a welcome lift going into the break 16 – 0 up.
Were the first half flew past the second half seemed to proceed at a snails pace as the now gale force wind kept Ulster pinned back in their own half and with a penalty and penalty try for Harlequins bringing the score to 16 – 10 the match appeared to be switching in favour of the London side.
However superb defence by the Ulster side kept Harlequins scoreless for the next ten minutes until an extraordinary turn of events turned the game Ulster's way.
Much has been made of the decision to substitute Evans just before he was due to take a penalty kick with Harlequins coach Dean Richards getting a fair bit of flack over the decision. However the decision to take the kick at all was extraordinary and points to poor game management by Harlequins skipper Skinner. With Harlequins getting on top of a tiring Ulster pack, Skinner should have chosen to kick to the corner and continued to scrum and maul their way over the line instead of opting for a kick which, in the conditions, had a 1 in 5 chance of being successful and a 100% chance of handing possession back to Ulster.
The kick was duly missed. Ulster made huge ground from the resultant drop out and two minutes later Best dived on a loose ball from a chargedown to put Ulster into an unasailable lead. With Harlequins completey distraught Ulster played out the remaining minutes with a degree of comfort much to the pleasure of the cold, wet but very happy supporters.
A great performance by Ulster and the way they out thought and out fought their opponents should see them going to Paris at the weekend with a fair degree of confidence.
See you there!
PRINTS
We now offer print, gift and download options for our images.
The ideal gift for all the family :)