PRINTS
We now offer print, gift and download options for our images.
The ideal gift for all the family :)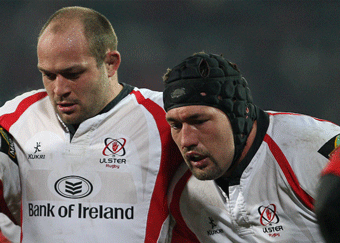 Limerick is a huge rugby town. Nearly every shop, hotel and restaurant seems to have Munster  flags or rugby memorabilia hanging from their façade or posted in their windows and every other person that you pass in the street is wearing a Munster top.
After a few hours in the town you are so overwhelmed by all things Munster that even the most optimistic of supporters is struggling to stay positive and when they start showing re-runs of Munster v New Zealand in the packed Sin Bin you are just hoping that you don't get beat too much.
Your spirits are not lifted too much when you make your way to the hugely impressive Thomond Park and you are swallowed up by a sea of Munster supporters as you struggle to get a pre-match pint and by the time you get to your seat your confidence is at an all time low.
But when your team comes out and produces one of the all time great displays and outplays Munster in all aspects of the game it is one of the best places on earth to be.
Make no mistake, Ulster dominated this game from start to finish. The forwards were immense and the back three completely controlled any possession that Munster kicked at them. People have put this down to a poor Munster performance but they, quite simply, were not allowed to play thanks to Ulster's aggressive defence. Humphreys Wallace and Cave tackled their hearts out and when they got the ball they invariably made huge gains as Munster were pulled one way and another by hard running Ulster players.
The look of joy on the players faces as they left the pitch was wonderful to see and lets hope that they can really kick on this season with equally impressive performances against Edinburgh, Harlequins and Stade Francais. I for one can't wait for Paris.
Finally a big up to the Munster supporters we met after the match who took their defeat exceptionally well and made us feel very welcome in lots and lots of bars.
PRINTS
We now offer print, gift and download options for our images.
The ideal gift for all the family :)