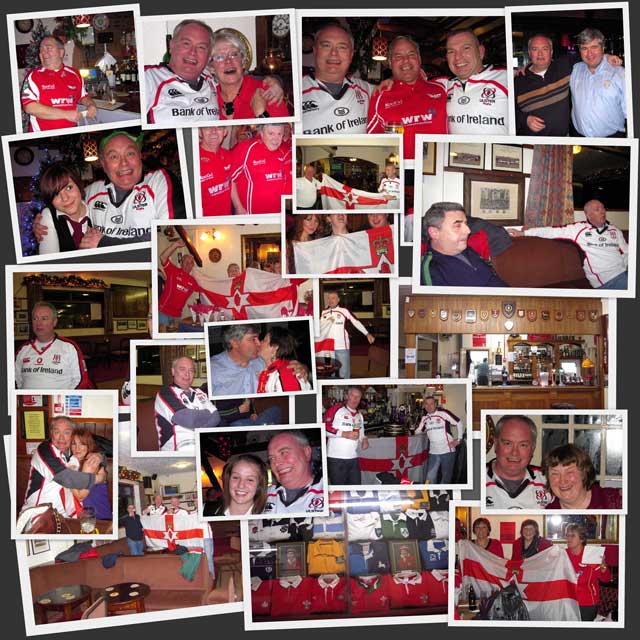 The pre-match build up started at New Dock Stars RFC who's President had taken the trouble to invite Ulster Rugby Supporters along to their club house prior to the game. Unfortunately on arriving shortly after 5:30 we found that we were the only people there and in all honesty when it did start to fill up there was little banter. Fortunately they did lay on transport to the game which was handy as it was now raining heavily and the suggested 5 – 7 minute walk was more like 15 – 20 minutes.
On the journey to the new Parc y Scarlets we noticed a brand spanking new Premier Inn and a Beefeater pub close to the ground and these my be worth further inspection on future trips. The ground itself looks great and it is a nice tidy stadium. The part artificial pitch looks fantastic and held up exceptionally well on what had now turned into an extremely wet and windy night. With the wind driving the rain into our faces for most of the game it is somewhat churlish to comment on the muted atmosphere but, as with all these new stadium developments, the atmosphere did fall far short of the intimidating atmosphere of Stradey Park.
Given the conditions it was always going to be a scrappy match but Ulster looked to have things well under control with tries by Humphreys and Wallace in the opening 40. Unfortunately Humphs left his kicking boots behind him or Ulster would have been out of sight. Scarlets hit back at the start off the second half and got a foot hold on the game with an early  converted try and from there on the match became even scrappier. Unfortunately the broken play became too much for the referee and touch judges as well as they completely missed the fact that Scarlets second penalty came from a quick throw in when the original ball was lying in the terrace.
All in all the draw was a disappointing result for a game which Ulster dominated, however the levelling effect of the weather cannot be underestimated. Roll on Harlequins and Stade.
Pictures here …
PRINTS
We now offer print, gift and download options for our images.
The ideal gift for all the family :)