PRINTS
We now offer print, gift and download options for our images.
The ideal gift for all the family :)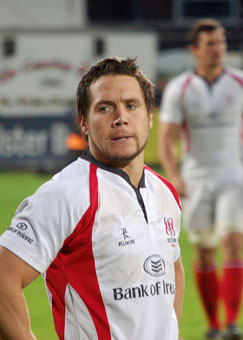 Things can only get better!
Yes it was hard to watch, yes it was very frustrating, yes the referee was poor, but let's all keep a sense of perspective about this game. While I can fully understand the frustration it has to be remembered that Ulster did play the better rugby on the night (just like at Cardiff the week before) and if it hadn't been for an extremely high error count the men in white would have run out comfortable winners.
The main concern, and it has been a concern since things started to go off the rails early last season, is that we still have no one who can control the game in the back line and until we do results like the Dragons and Cardiff, were we dominate possession and lose, are going to continue.
Ulster Rugby have, I believe, recognised this and did make approaches to the likes of Mortlock but for various reasons were unable to secure the deal. It looks like there will be no further approaches this season, particularly with Williams himself now apparently unsettled,  so we will have to make the best with what's available and we're going to have to be patient.
One thing that has to stop though is this "horses for courses" selection policy at half back. With so much in the backline unsettled Williams has to pick his starting 10 and stand by him. Whether it's O'Connor or Humphreys is immaterial, both have their strengths and weaknesses, but it shouldn't be Paddy and it should be for a succession of games. What is vital is that the backs get a degree of stability and familiarity in their attacking and defensive patterns and once lines and angles become instinctive we may find a few more of the "hero ball" passes actually sticking. The competitive season is to all intents and purposes over now. The least we can do is determine which 10 we want to go forward with and develop him for next season.
Now we haven't seen, what I believe is, our best back line yet this season. However a back line of Boss, O'Connor, Danielli, Wallace, Trimble, Nagusa and Schifcofske with Willis, Humphreys, McCrea, Cave, Dewey, Cochrane and Cunningham all pushing for inclusion doesn't sound too bad and maybe it's worth waiting for.
Pleased to say that Nagusa is continuing to improve. He's been targeted by Llanelli, Cardiff and the Dragons but has met the challenge with more confidence each week. Still a bit to go but he is getting there.
Finally a word about the referee.
Watched this game and the Munster game on Sunday and have to say that the standard of refereeing was exceptionally poor. Unfortunately with so many laws open to interpretation there is very little consistency, and the input of the assistant referees is appalling in its meagreness. The Clubs, the Magners League and Setanta have a great product here but they need to do something to help improve the standard of referees and assistant referees if it is going to be taken seriously.
It has been suggested before, and it needs to be done, but each club in the Magners should put a minimum of £30,000 into a central pot each season (on top of existing sponsorship) to recruit, train and develop the officials. Lets not devalue the product any further.
PRINTS
We now offer print, gift and download options for our images.
The ideal gift for all the family :)