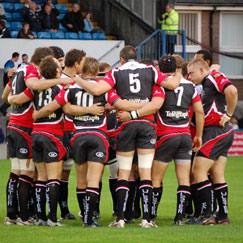 My own personal opinion is that this was a much better performance from Ulster. Yes there were still plenty of mistakes, and as the coach said, there was a certain amount of naivety in the second half when they should have closed the game out when but it was really the first time for a while where man for man Ulster were the dominant team.
Watching from the terrace in Cardiff doesn't always give you the best perspective of the game, particularly if you've been sampling the delights of Cardiff for most of the day, but it does give you a good feel for how the game is progressing. The Cardiff fans were definitely worried and in most phases Ulster played the better rugby. Scrummaging skills were better and handling skills were better, the only things that appeared to be missing were breakdown skills and a bit of nous to play the ref and the ability to close out the game. For the first time this season I got the impression that there is the makings of a fairly decent side here.
The inclusion of O'Connor at out half definitely helped. Though he may be more predictable, he is also more reliable and that's what this team need at this moment in time. Nagusa raised his game by another 25% and looked much more comfortable. There's still a bit to go but it was a great improvement. Pollock looked the business in the back row and it's going to be great competition for places once Ferris is fully fit.
Still a bit to go, but it's not all doom and gloom. The centre paring still needs sorted and it's a shame to waste someone as reliable as Cunningham on the bench. Perhaps Schifcofske should be tried out on the wing against the Dragons, assuming he recovers from his knock in time.
Vote for Ulster Man of the Match here …
Pictures below.
PRINTS
We now offer print, gift and download options for our images.
The ideal gift for all the family :)