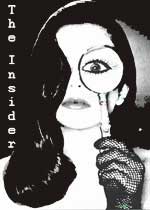 URSC FUND-RAISING NIGHT
A fund-raising night was held to raise money for a new Ulster Team Mascot by the URSC. President Kimble who has dedicated his life to breeding team mascots in captivity, introduced the current team mascot Sparky to a well attended evening. The highlight of the evening happened when President Kimble described Sparky's marvellously entertaining dancing during which he delighted the audience by jumping up and down on top of a red hot metal plate to the tune of 'La Bamba'.
Over £1700 was raised which Kimble hopes to put towards an even more energetic mascot whose on field actions will induce a state of optimistic euphoria amongst the loyal Ulster fans.Kimble described Sparky's performance as 'sweat inducing'.
Afterwards Sparky spoke with authority to the audience about the difficult subject of sweating. With a variety of interesting slides and specimens Sparky spoke for just under five and three quarter hours about the history of sweating, from Adam to Tony Blair.
The audience were invited to sniff any of Sparky's 300 samples of famous sweaters, including ex Ulster prop, Rod Moore's jockstraps, which account for over two thirds of his collection. A light refreshment of salt water with ice cubes was served, after which Sparky complained that much of his collection had gone missing. Toilet visits were brisk and a large number of trainers were binned.
WILLIAMS MOVES QUICKLY TO ALLAY ULSTER FANS FEARS OF A HEINEKEN/MAGNERS DOUBLE.
Ulster Coach Matt Williams has moved quickly to allay Ulster fans fears of a Heineken/Magners double this incoming season since most fans recognize that achieving the double would only be papering over the cracks which exist in the current Ulster set up.
Smooth talking Williams has assured fans that steps have been taken to ensure that Ulster do not move too far, too fast. Williams has set the bar at a safe ninth place in the Magners League and two home wins in the Heineken. As further insurance Williams has insisted on hiring Doakie as 'skills coach'.
Although he had an illustrious career with Ulster, during the latter part of it he was better known for knitting an Ulster scarf for a giraffe, whilst waiting to pick up the ball from the base of the scrum or ruck. He was also heard to scream to the ref, "I can't pick the ball up until they've all washed their hands!"
Even though the perceived rugby wisdom is that quick ball gives a huge advantage to the attacking team Doakie turned this theory on it's head by exposing defenders with Attention Deficit Disorder. Thank goodness for Doakie as fans were starting to worry about how they would cope with even mild success.