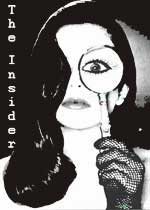 COLZO TRIUMPHS AT URSC AGM
The URSC AGM was a personal triumph for Colzo who pulled off a 192 to 1 shot when he won both competition prizes of a pair of rugby boots and a £200 wrist watch. The draws were made by Goodaine who also swore that she had never heard of Colzo, ever. During his acceptance speech Colzo said that his win would inspire him to work for world peace, join the fight against AIDS, clear the world of land mines, and buy his own apartment. He also assured the competition judges that he would rededicate himself to his studies as he is hoping to gain a degree in Cake Decoration and Media Studies as well as an NVQ in 'The 24 hour clock' within the next couple of years. He informed the audience that he was in the throes of his first ever meaningful relationship with a member of the opposite sex, i.e. one that lasted more than 12 seconds. All of this was of no interest to anyone there especially one guy who had fallen asleep and fell forward breaking his nose on the chair in front.
A totally disinterested bystander asked a committee member what he thought about someone winning a wristwatch when they couldn't even tell the time and was told, "So what! Didn't he win the rugby boots as well and he can't kick his own arse!"
NO SHRINE TO YOBBERY AT MAZE
"There will be NO shrine to yobbery at the Maze!" says Culture Minister Mr. Edwin Poots in a cynical attempt to gain cross community support.
"A Second Barrier will be erected over my dead body," he further emphasised. The move to build the Maze without a Second Barrier has already gained wide acceptance among Unionists and Nationalists who were full of praise for the Minister's bold move.
Deputy First minister Mr. Martin McGuinness said, "There is no way that a small group of fanatical readers of 'Stand Up' and 'Scoop' will be allowed to disrupt the genuine fans who attend these events to support their team in a normal way. Need I remind these people that I was filling magazines while they were reading them!"
First minister Dr. Ian R.K.Paisley also weighed in with the observation, "What kind of message do these people want to send around the World about Northern Ireland with their banners and placards portraying negative messages and images typical of a neo fascist running dog lackey gormless twats sort of organisation?"
It is thought that these comments may have disheartened some of the Second Barrier Crew who have subsequently wavered in their support. However it is believed that a hardcore are determined to press on and wish to become known as the Independent, Real, or Genuine, Provisional, Continuity, Second Barrier Crew !
REID DENIES LOSING A BIT OF PACE AS HE CONTINUES TO BULK UP
Ulster Rugby have moved swiftly to deny that CEO Mike Reid has lost a bit of pace as he continues to bulk up thanks to an unprecedented number of corporate lunches and a passion for his favourite meal which is 'seconds.' Reid easily won a recent Diatholon, which involves a 100 metre sprint followed by a three course meal. competing against Linford Christie. Right from the sound of the starter's dinner bell he completed the 100 metre sprint and was licking his spoon after the sweet course when Christie was only crossing the line in the sprint segment. Eat up for the Ulstermen!
HOLYWOOD MIKE CONFESSES 'MY HONEYMOON WAS A FARCE WITHOUT CHEERLEADERS!'
Ulster Rugby fan Holywood Mike confessed to the FRU that his honeymoon was a farce as he couldn't 'perform' without the help of cheerleaders. He further claimed that cheerleaders had created a void in his life which could not be filled by Sparky alone. He also admitted that the honeymoon had been a disaster as he had no sexual experience and although he had borrowed a Sex Manual, unknown to him, a large number of pages were missing and this had resulted in him going straight from 'foreplay' into 'post natal depression'.